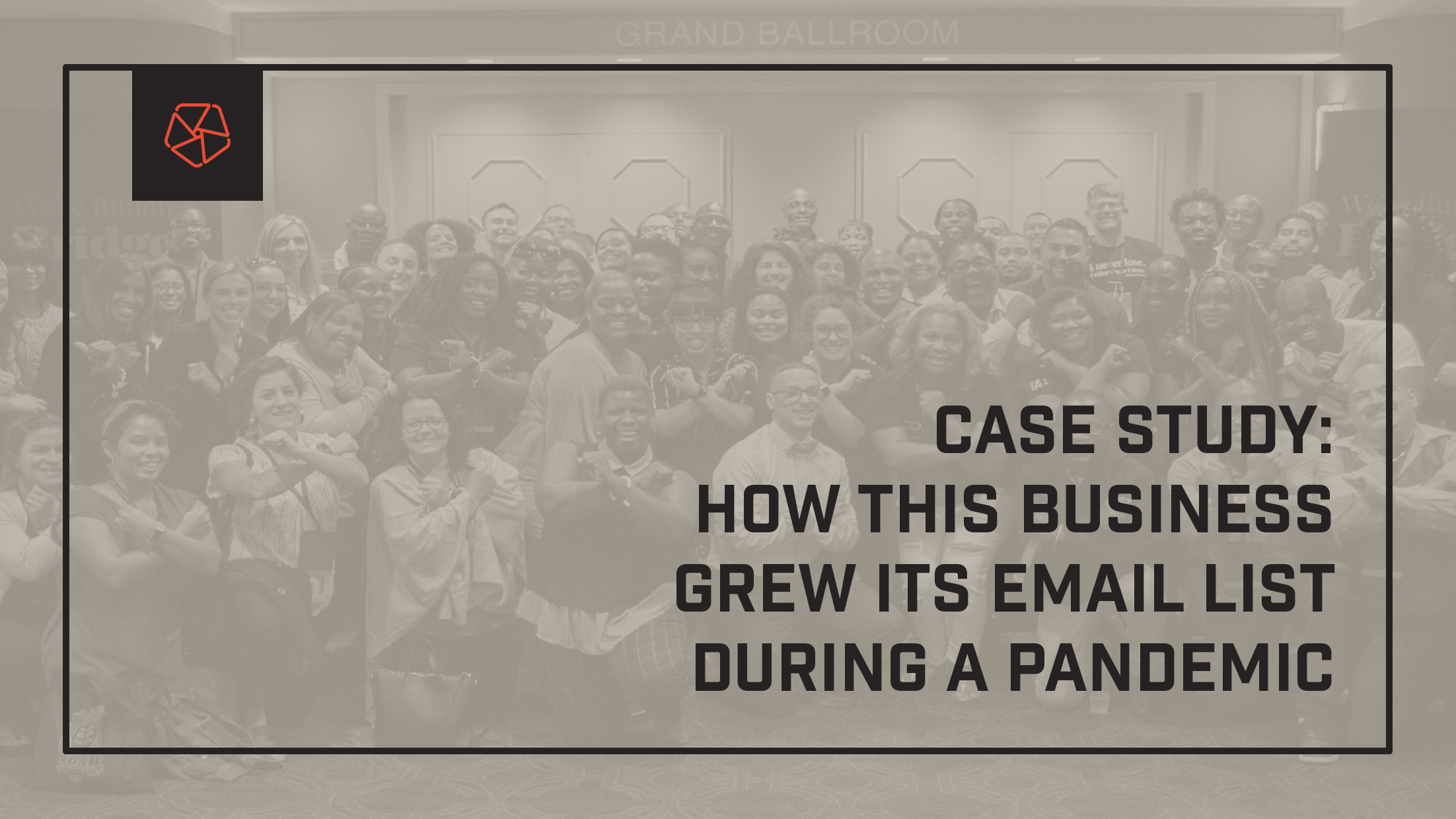 How I Helped This Business Add More Than 4,000 New Email Subscribers to Its List—In the Middle of a Global Pandemic
I don't care what anyone says…no business or organization can predict what would happen if, all of a sudden, the market collapsed or a disaster happened or some world event brought everything to a standstill.
But here we are in 2020, and it seems like all of those things have happened this year with the COVID-19 pandemic. We've heard about so many businesses, especially those run by black and brown founders, that have folded as a result of what the pandemic did to the economy. Nonprofits have felt the pinch too.
Now let me raise a question that might ruffle some feathers (but it's the honest truth): How many of those businesses and organizations that have shut down as a result of the COVID-19 pandemic had an email list?
Now let me take it a step further: How many of those businesses and organizations were using modern online tools to grow and engage their email list?
Not that many, I'm guessing.
On the flipside, I've heard stories about a number of businesses and organizations that have decided they weren't going to become another casualty as a result of a global pandemic. One of the main things they all had in common was they used some type of online tool to grow—not just maintain—what they've been doing.
So let me give you some hope by telling you a story about a social enterprise I partner with that has seen some amazing growth during the pandemic. I can't take all the credit, of course. But after I introduced them to an online tool that had the potential to accelerate the growth of their email list, some really cool things started happening.
It showed me that businesses and organizations that use these same tactics are going to be the ones that make it in the long run…even if there is another disaster in the future (and you best believe there could be another one).
A solid foundation leads to solid results
To give you a little background, I've been working with Pacific Educational Group since 2016, and it's been a phenomenal partnership. The company brought me on to design its new website in collaboration with Wieden+Kennedy, one of the most innovative ad agencies in the country right now. The company was looking for a new website to match its Courageous Conversation brand and represent all the work the staff has done over the decades to build a community of racially conscious leaders all over the world.
If you haven't heard of the Courageous Conversation award-winning protocol yet, I'm sure you will very soon. All sorts of educational organizations, government agencies and businesses have worked with Pacific Educational Group to facilitate engaging, effective dialogue about racial equity for their leadership teams and employees.
Needless to say, they didn't need my help with putting them on the map in the traditional sense.
What I've had the privilege of doing is putting them on the map when it comes to their online presence. By managing their web content across the entire brand, I've been able to keep the world updated with their progress and show everyone how they're making an impact.
I've been able to watch some breakthrough moments unfold as a result of my work in the background.
There was the time we got to announce that the company and Wieden+Kennedy took home the Most Valuable Partnership (MVP) Award at the ADCOLOR Awards.
Then there was that moment when we found out the news that Austin Mayor Steve Adler advocated for Pacific Educational Group's Beyond Diversity training for all Austin residents. That was huge!
More recently, the company's founder and president, Glenn Singleton, was named one of the 18 champions of diversity and inclusion by Adweek. We got to announce that big news on the website as well.
I've seen the company's website traffic steadily climb throughout the whole period.
So when the COVID-19 pandemic started, we knew there were going to be some challenges.
COVID-19 leads to some innovation
At first, the company had to rethink its strategy around holding in-person trainings and events, for obvious reasons. But then the George Floyd protests broke out, which created a new demand for their timely trainings.
That's when we had to think about the best way to leverage a website that had already become an invaluable resource for their community.
I proposed that we use Sumo, a powerful digital marketing tool that everyone from AirBNB to Tony Robbins to Tim Ferriss has used to help automate their growth.
Sumo comes with a feature called List Builder that, in a nutshell, gives you both control and results—which is why I have many of my clients using this tool on their websites.
Like a lot of other forward-thinking people, I know that most businesses and organizations these days want something that, on the surface, seems impossible: the ability to create effective pop-up email opt-in forms in a user-friendly format.
The ability to capture more email addresses is what most organizations need to keep growing, and Sumo's List Builder Tool has been a life-saver for me. Here are just a few reasons:
You can choose exactly how your pop-up looks
Drag and drop means you can work out the fine details of the visual elements quickly and easily
You can choose from high-converting templates or customize and make your own
You can put anything anywhere on your pop-up…images or text, for example
It takes next to no time to set up
You can track how your pop-ups are doing too, which is why I can tell you this experiment worked really well.
Here's what happened after we started using Sumo on the Courageous Conversation website… prepare to have your mind blown!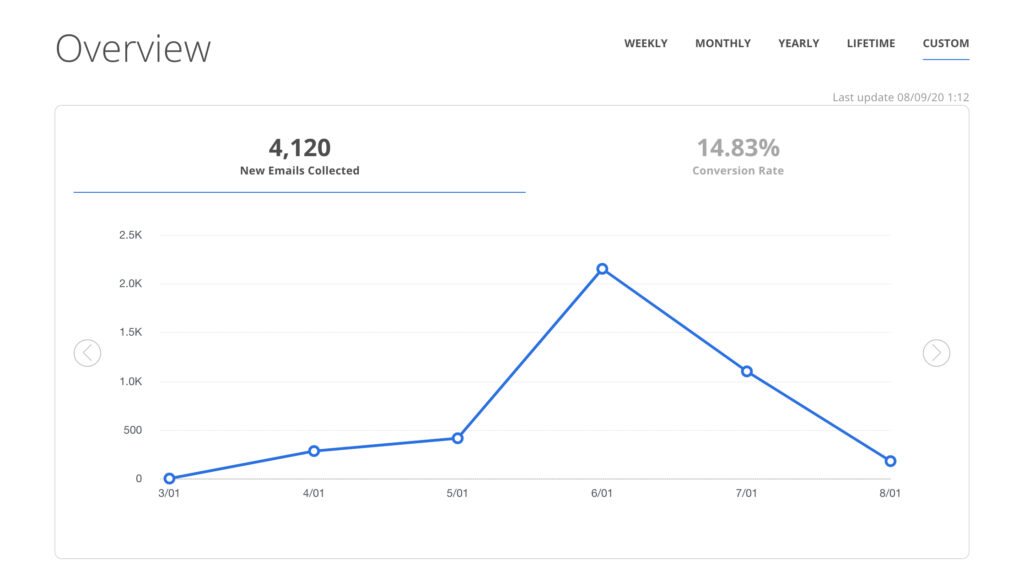 That's right…In less than six months, we've been able to grow the company's email list by more than 4,000 subscribers.
The conversion rate is off the charts too…close to 15%. To put these numbers into context, it usually takes most businesses years to build up their email lists that fast, and the average conversion rate on most websites is 2.35%.
How to position yourself for a similar type of growth
So what's the secret?
As I said earlier, no one can predict what's going to happen in the middle of a global pandemic. And who knows when the next social justice movement is going to capture the hearts and minds of the American public (that's like asking when will the United States ever get real about racism?…we'll save that for another conversation)?
But when those moments happen (unfortunately, these events might continue to happen), you can make sure your website and your online presence are built and maintained in a way so you can make pivots that keep you in business.
Here are a few simple steps you can take to position your website for a similar type of growth:
Have your website built with a solid CMS (i.e. WordPress), which gives you more control on the backend to make small or big changes over time.
Do the research to find and understand your target audience, then tailor your content so that it speaks to their interests and needs frequently.
Add new content to your website and let people know about it so it looks like your business or organization is always on the move (this also helps you get closer to the top of the Google search rankings).
Capture people's emails on your website (I recommend using Sumo to do this).
Once you've got people's emails, incentivize them with more ways to engage with your business or organization (i.e. more content, free download, exclusive access to a product or program you're offering).
We can't let COVID-19 or any other disaster shut down the businesses and organization that matter the most to our society for no reason. Take control of your content, find a way to really serve your community, and then keep people engaged. Follow this formula and perhaps you could accelerate the growth of your email list too.