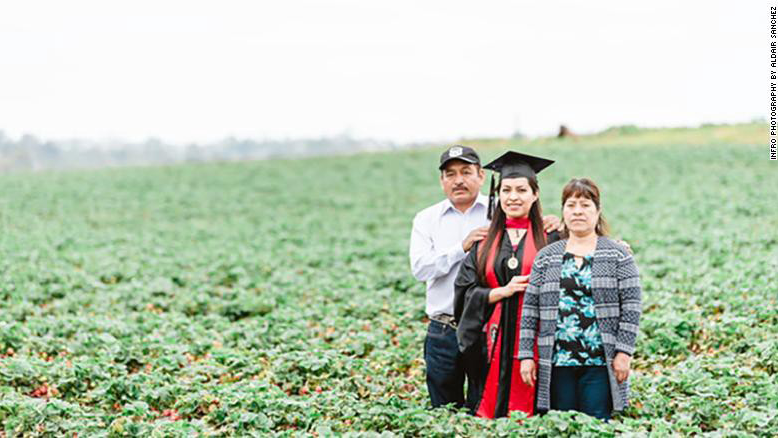 Social Entrepreneurs: Here's the Best Way to Connect With Your Audience Online
Not too long ago, I heard a story about a woman who decided to honor her immigrant parents by taking her college graduation photos with her parents in the fruit fields where they used to work.
The story behind the photos was so powerful that I immediately saw a connection with social entrepreneurship and content marketing. If you have a social enterprise, I think there are a few lessons you can take away from this story too.
It should come as no surprise that immigration is a hot topic right now. It's become a polarizing political issue, and you won't be able to turn on the news on any given day without someone talking about the plight of immigrants as they pursue the American Dream — or have it taken away.
But when I heard about Erica Alfaro and her graduation photos that went viral, I knew this wasn't just another immigration story. It was a teaching moment.
Embracing your roots
As the story goes, Erica got her master's degree from San Diego State University and was looking for a way to dedicate her college journey to her parents, who came to the U.S. from Mexico to give her and her siblings a better life.
Growing up, Erica, her brother and sister used to work with her parents in the California fruit fields during their summer vacations.
If you know anything about Cesar Chavez, then you know the majority of the farm workers in California are immigrants, mostly from Latin America. You also know the conditions in which they work are not always the best, even though they help produce one-third of America's vegetables and nearly two-thirds of the country's fruits and nuts.
So when she shared her graduation photos on Facebook and Instagram, Erica knew she wasn't just telling people about her experience as a Latina making it in America. She wanted to show people why her experience was so unique, yet deeply American.
I'm sure she didn't plan on making herself go viral. But the fact that she showed a contrasting scene that most people would have never imagined before — an educated person of color who embraces her roots, literally — made her story 10 times more relatable.
"The reason I share my story is because I want to encourage undocumented single mothers, and people who suffer from domestic violence, to get an education and achieve their goals," Erica told CNN.
Taking "show don't tell" to another level
The thing I really want you to take away from this example is that content marketing is ultimately about building relationships, and the best way to do that is to show your audience that you can relate to them.
Content marketing takes the old saying, "Show don't tell" to another level. It's the ability to know what people are thinking and to have the foresight to nurture them along a familiar path so they feel like they're working with a friend rather than just another stranger off the streets.
So if your social enterprise is an advocate for ending homelessness, share more stories about why you care so much about that issue. Pull out your phone while you're in a homeless encampment, go on Facebook Live and talk about issues that are important to your business or organization while you're in that environment.
Better yet, take some professional photos of homeless people who are making strides to improve their lives. Show the homeless person wearing a suit in front of the car or bench that they might be using as their temporary house.
If your issue is fighting for racial justice, show what it's like "being while black." I would film black men and women talking about their everyday experiences with unconscious bias and show scenes or photos of those folks in situations where, according to stereotypes, they don't belong.
For example, a black man grilling up some links for his family in a park full of white people. A black woman with her natural hair and a power suit standing on a busy street corner as a bunch of guys looking like Wall Street stock brokers pass her by.
Procter & Gamble did this perfectly in its recent ad "The Look," which premiered at the Cannes Lions festival.
Just tell the story
A lot of social enterprises (especially in the nonprofit world) think they are coming off as someone who is genuine when, in reality, people are tuning them out because their messages don't include any stories of real people's experiences.
Jay Baer, New York Times bestselling author and founder of Convince and Convert, had it right when he said that social enterprises (especially nonprofits) have a secret weapon and they're not using it enough.
"Just tell the story," Baer said in a Forbes article.
So what this means for you and your social enterprise is that your story can be used as your main sales pitch.
It's time to embrace the fact that if you're advocating for a social issue or if you're putting the spotlight on a societal ill, you've automatically become a storyteller. You should be using all the storytelling tools available to you (think Facebook, think a website, think a blog) to share that message with your audience.
Bottom line: Just like Erica Alfaro, don't be afraid to show people a different side of their reality by sharing the full picture behind your story. Sometimes that's the only way to get people to embrace change.
---
Here's your next step as it relates to what I just shared: If you're serious about wanting to get help with developing a content marketing strategy for your social enterprise, make sure to check out my free ebook, which shows you how to use content marketing to build authority and a huge, loyal following online while making sure that the work you're putting in now keeps on paying dividends in the future.